Once spring arrives, you must be on top of your lawn and landscape maintenance schedule. Don't allow your lawn to be ill-equipped for summer growth.
Rather than trying to take on every task yourself, consider hiring our lawn maintenance company to handle the arduous work for you. We offer comprehensive lawn maintenance services to residential and commercial properties in and around Westfield, Watchung, and Warren, NJ. Check out three lawn and landscape maintenance services you definitely shouldn't skip out on this spring.
---
1. We perform regular lawn mowing near the start of the spring season.
Though your grass doesn't need regular mowing during the winter, that all changes once spring rolls around.
Spring begins in mid-March, and the lawn growing season takes place from mid-April until the end of November. Starting in mid-April, we will perform weekly lawn mowing to help your grass thrive during the spring season and into the summer and fall.
Our lawn maintenance company knows how to care for certain grass types common in New Jersey including Kentucky bluegrass, fine fescues, perennial ryegrasses, and zoysia grasses.
We use modern and well-maintained equipment with sharp blades. This way, we will cleanly cut your grass blades to allow for even growth.
Every mowing visit includes string-trimming, blowing, and edging services to keep your lawn healthy and free of natural debris. Our team completes a thorough job to strengthen your lawn and prepare it to ward off health issues that may arise later on in the year.
---
2. Mulch should be replenished every spring season.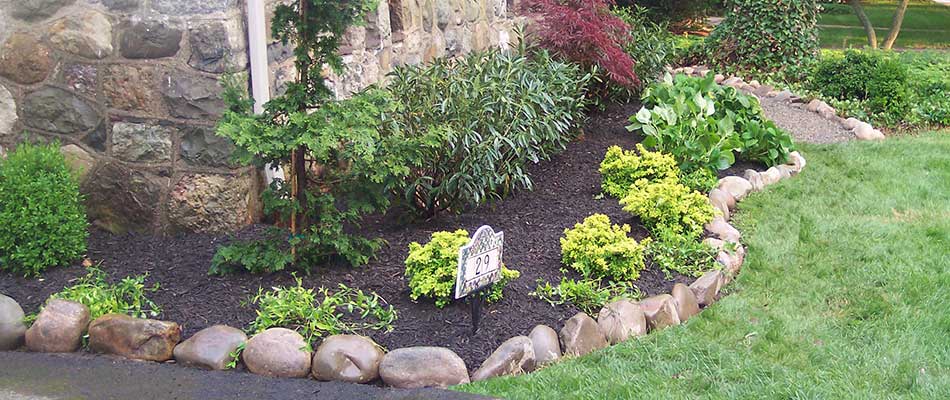 If your landscape beds are full of faded or sparse mulch, it may be time to replenish them. Mulch should be replenished every spring season. Some common types of mulch that we lay for our residential and commercial clients are black-colored and brown hardwood mulch.
A few of the benefits that your lawn and landscape will experience due to mulch replenishment include:
Enhanced beauty: After a long winter with a barren landscape, fresh mulch will add color and contrast to your landscape beds. Plus, it's a cost-effective way to increase your property's curb appeal.
Weed control: Mulch represses weeds by depriving them of the light and nutrients they need to grow.
Moisture retention: As it begins to heat up, mulch gives your landscape's plants an effective way to retain moisture.
---
3. Unify your landscape with our softscape and planting services.
Some property owners neglect their landscapes throughout the winter. If your landscape has fallen into disarray due to a lack of proper care and maintenance, it's not too late to unify it with our softscape and planting services.
Spring is one of the most popular times to install new softscape. We offer comprehensive design and installation services to create a low-maintenance landscape that will last into the summer and beyond. Depending on your specific preferences, we can install a variety of ground covers, shrubs, ornamental trees, and ornamental grasses.
---
Experience firsthand how your yard can benefit from these spring lawn and landscape maintenance services. Call us today.
We encourage you to experience how your yard can benefit from spring lawn maintenance services firsthand. Call (833) 452-9666 today to enlist the lawn and landscape maintenance services that are best for your property this spring. We serve both residential and commercial lawns located in and around Warren, Watchung, and Westfield, NJ.