While a lot of homeowners focus on plants and trees when it comes to planning their landscape's softscape, you must not neglect the value that shrubs can bring to your yard. They offer aesthetic benefits as well as reduced erosion and improved air quality.
Here at Stream Line Lawn & Landscape, we offer our planting and softscape services to residents and businesses in Scotch Plains, Warren, and Watchung, NJ.
If you want the maintenance process for your shrubs to be very hands-off, you must opt for robust shrubs for your landscape. Here, we'll discuss three low-maintenance shrubs that we frequently install for landscapes in Scotch Plains, NJ.
---
1. Boxwood shrubs can thrive in partial shade or full sunlight.
Boxwood shrubs are incredibly versatile. While they prefer partial shade, they can tolerate full sunlight. Some varieties of boxwood shrubs are more tolerant to the sun than others. Depending on where you want to plant your boxwood shrubs, our landscapers can help you choose a variety that will fit with your particular yard.
These shrubs can be trimmed to conform to strict geometric shapes, or you can opt for more whimsical designs to grant your landscape some fascinating focal points. Their trimming schedule is ultimately up to you. If you want to, you can choose to let them grow more freely and don't have to abide by a strict trimming schedule.
While these shrubs require regular watering for their first couple of years, they are relatively easy to care for. After this initial growth, they become very drought-tolerant and don't require a significant amount of watering.
Boxwood shrubs come in a range of colors that range from pale green to dark blue-green. Some varieties even have variegated leaves, which means the leaves contain different-colored zones.
---
2. Hydrangea bushes require minimal trimming.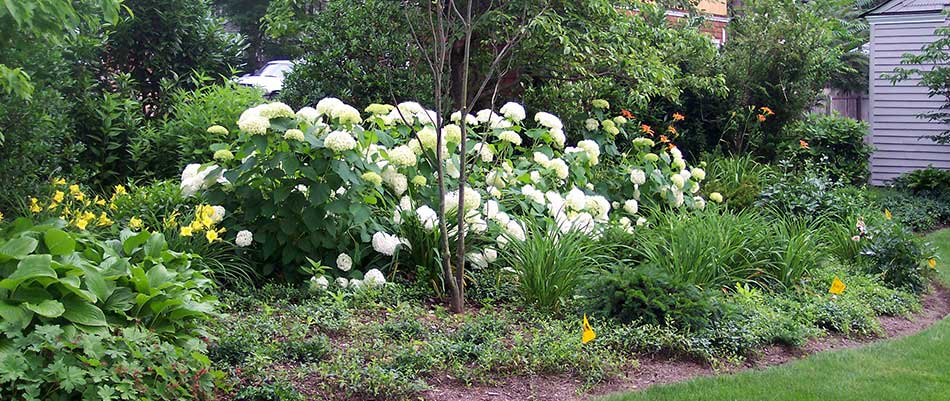 While hydrangea bushes are known for their vibrant summer blooms, they manage to stand out year-round. In the fall, their leaves turn hues of orange and red. When winter rolls around, their peeling bark becomes an interesting stand-out feature.
Hydrangeas are normally planted in the spring and fall. With an effective irrigation system, they should receive all of the water they need to thrive. They grow best with full sun in the morning time with some shade provided in the afternoon. However, oakleaf hydrangea bushes and other varieties will fare well in partial shade all day long.
Hydrangea bushes require minimal trimming, which usually occurs about once a year. With nutrient-rich, moist soil, they will thrive no matter the current season. Our team of landscapers can help you plan the placement and number of hydrangea bushes for your landscape.
---
3. Lilac bushes can grow in loamy or clay soil.
Lilac bushes produce beautiful and fragrant flowers. Depending on the species of the bush, lilac can grow from anywhere between 6 and 20 feet. Lilac bushes are very robust. While they grow best in loamy soil, lilac bushes can also grow in more clay-based soils.
If you have an open landscape, lilac bushes will thrive on your property because they grow best in full sunlight. They will also tolerate partial shade, but avoid planting them in areas with full shade.
Lilac bushes will reach their full growth potential in well-drained soil. As long as you avoid overwatering them, they are easy to care for all year.
---
Are you looking to plant shrubs or other landscape plants in your Scotch Plains yard? Contact us today.
If you want to plant shrubs or other landscape plants for your yard, get in contact with our team today at (833) 452-9666. We are well-experienced with designing and installing landscapes for your yard in Scotch Plains, Warren, Watchung, or a nearby area.